Directions to Shiraishi Island
(Updated June, 2020)
All ferries to Shiraishi Island leave from Kasaoka City in Okayama Prefecture. For Shikoku ferries, scroll to bottom of page.

By Train

To get to Kasaoka city, take the local JR train (Sanyo Honsen Line) from either Okayama or Fukuyama station (both are stops on the bullet train line). Get off at Kasaoka Station (45 min by local train from Okayama, 10 minutes from Fukuyama). Walk to the ferry port (5-min).

By Car

Take the Sanyo Expressway and exit at Kasaoka Interchange (I.C.). Go south via Route 34 for 4km to National Route 2 ("ni-gosen"). Route 2 runs by Sanyo Kisen ferry port south of Kasaoka Station. Follow the signs.
There are two ferry companies running to Shiraishi Island. Sanyou Kisen takes passengers only and the Shiraishi Ferry takes both cars and passengers. Most people will take the Sanyo Kisen passenger ferries as they leave most frequently and this ferry port is closest to the train station. There is free parking for cars in the summertime.

Both ferries leave from Kasaoka Port, however their departure platforms are far from each other. Sanyo Kisen ferry port is about a 5-minute walk from Kasaoka station.

Both ferries arrive at the same place on Shiraishi Island.

All quoted fares are adult, one-way. Children are half-price.
Ferries to Shiraishi Island
Directions to Ferry Terminals

To Sanyo Kisen Ferry Terminal from Kasaoka Station:

Follow the signs to the ferry port or: Take a right out of the station and follow the road. Keep an eye on the right side for an underground walkway that will take you under the train tracks and to the other side of the station. Turn right into the underground walkway (do not take any of the stairs up out of the underground walkway, no matter how tempting it may be!) Keep following the inclined path until you are out of the walkway. Keep walking straight till it dead ends (less than 10 meters later). Take a left. Ten meters later, at the next road, turn right. You will see a traffic light in front of you (another 50 meters ahead), and on your left will be the Sea Side Mall, Mr. Donut and KFC. Walk straight across Route 2 at the traffic light. Keep walking straight another 50 meters until you dead end into the port. The Sanyo Kisen ferry terminal WAS there on your right. NOW, it's a bit more to your right, and once you turn right at the deadend, it'll be on your left. It's in a new building that looks more like a library than a ferry terminal. It's about a five-minute walk (or 3-minute run) from Kasaoka station, but don't push it--arrive with plenty of time so you don't miss your ferry.

Directions to Shiraishi Ferry Terminal (called Fushigoe Port) from Kasaoka Station:

Easy Way: Follow the directions for the Sanyo Kisen Ferry terminal but turn left at the traffic light at Route 2 rather than crossing it. Follow Route 2 through the tunnel. When you come out of the smelly, polluted tunnel, the terminal cross to the other side of the road at the first traffic light. On the other side will be a small foot path that goes off to the left along the port. You should be able to see the ferry terminal on your right. Car parking is available at the Shiraishi Ferry Terminal.

(Last Update: July, 2019)
For pictures of the new Sanyo Kisen Ferry terminal, click here:
For the Sanyo Kisen ferry schedule in Japanese click here:
Passenger Ferry (for those not bringing a car)
Sanyo Kisen Regular Ferry ("futsu sen")
Fare: 660 yen (pay at terminal) (children half price)

The regular passenger ferry takes 34 minutes one way from Kasaoka to Shiraishi Island. Shiraishi is the third stop. There is an announcement in English.

Kasaoka Departure times: 8:10, 11:20, 14:20, 17:50
Return times: 7:05, 9:56, 15:55, 17:05

Additional fares: Bicycles: 270 yen, Scooters up to 50cc: 450 yen, Small Dogs: 360 yen, Med to Big Dogs 510 yen, Goldfish: free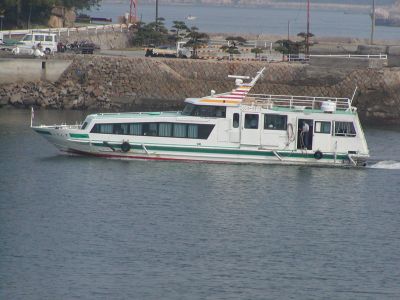 Sanyo regular ferry
Sanyo Kisen ferry schedule in Japanese
Sanyo Kisen Express Ferry ("kousoku sen")

Fare: 1,150 yen (pay at terminal) (children half-price)

The express passenger ferry takes 22 minutes and goes directly from Kasaoka to Shiraishi Island. There are no stops along the way. There is no English announcement.

Kasaoka Departure times: 7:25, 9:10, 12:30, 16:30
Return times: 8:37, 12:02, 13:52, 17:50

Additional fares: Bicycles: 470 yen, Scooters 50cc: 630 yen, Small Dogs: 560 yen, Med and Big Dogs: 710 yen, Snakes: unknown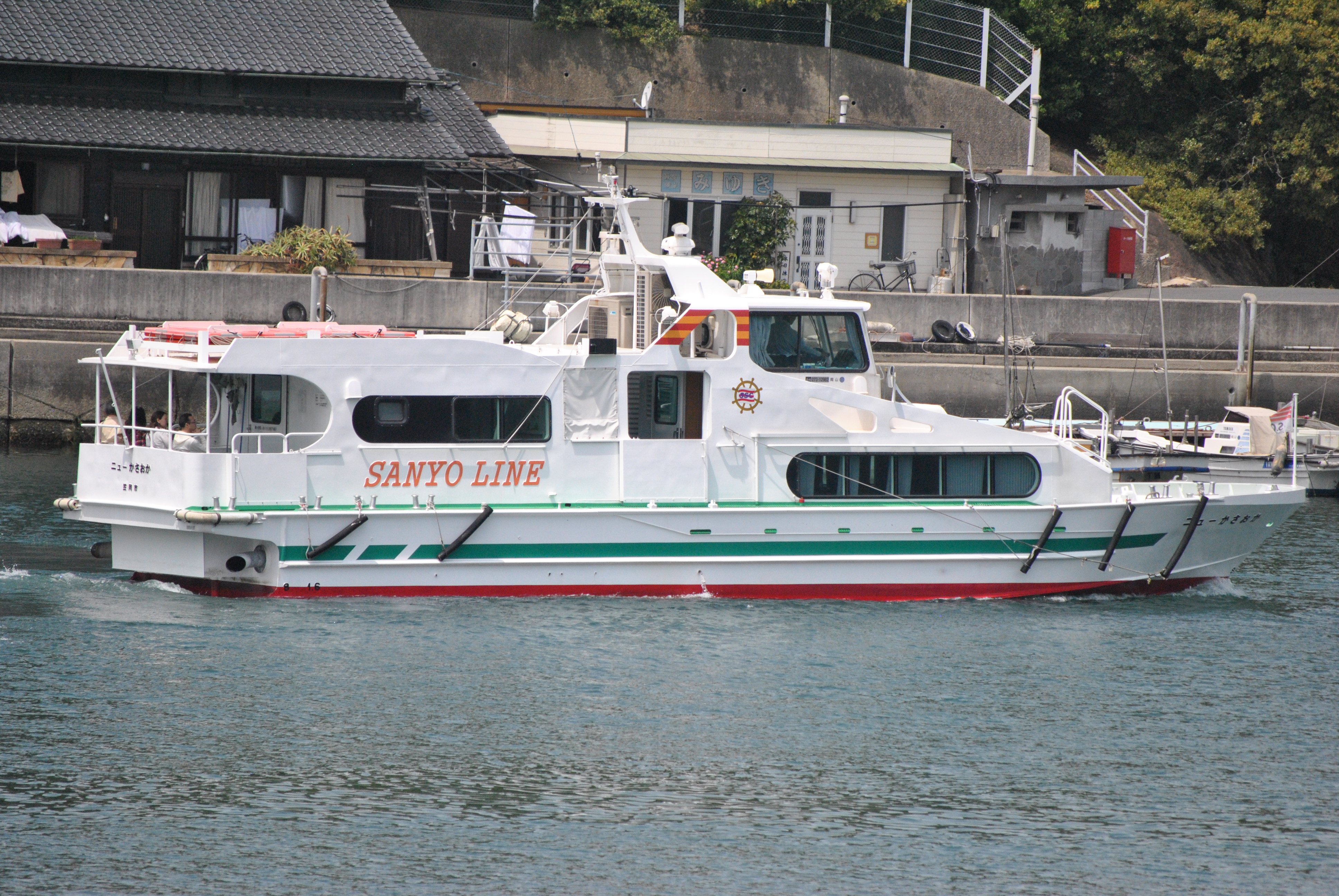 Sanyo express ferry
Car Ferry (for those wishing to bring their car/motorcycle to the island)
This is called, simply, "Shiraishi Ferry"
This ferry is painted bright orange--can't miss it! The ferry is a good budget option. The Sanyo Kisen passenger ferries are the first to stop running when the wind gets up (approaching typhoon, etc) but the sturdier Shiraishi Ferry will run up to the last minute. If you get sea sick, this is also the best option as the ride will be smooth even in stormy weather.

Fare: 530 yen; children 270 yen (through elementary school age). Pay on board.

This car ferry takes 40 minutes and goes direct from Kasaoka to Shiraishi Island with no stops along the way. It carries passengers as well as cars and motorcycles.

Kasaoka Departure times: 9:00, 11:00, 14:40, 17:00

Return times: 7:55, 10:00, 13:35, 16:00
Additional fares: Bicycles 250 yen, scooters 500 yen; motorbikes under 750cc 760 yen, over 750cc 1,020 yen, Dogs: 270 yen, Rhinos: prohibited. See fees for cars below, under "So you wanna bring your car?"
Note: This ferry port is furthest from Kasaoka station. About a 20 minute walk. You can drive and park your car there, however. Passengers without cars may also take this ferry.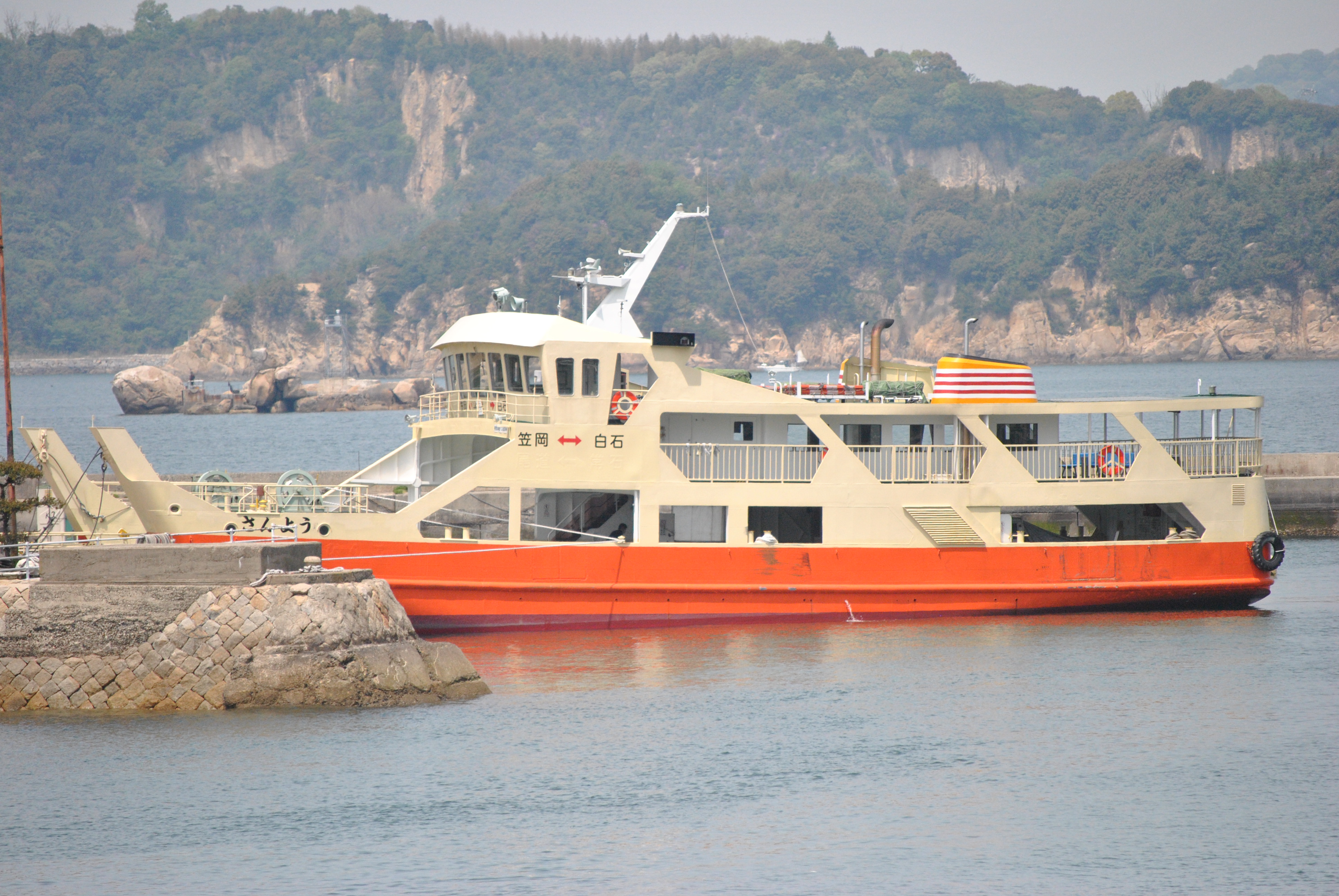 So you wanna bring your car?
You may think twice when you see the rates. Remember, Shiraishi Island has one road that is 5 km and there is free parking at the ferry port on the mainland.
Fares are one way and include the driver:
Cars up to 4 meters long 2,620 yen; 4-5 meters long 3,450 yen; 5-6 meters long 4,250 yen; 6-7 meters long 4,940 yen; 7-8 meters long 5,750 yen; 8-9 meters long 6,4400 yen; 9-10 meters long 7,250 yen
There is a new car ferry option this year, a boat called the Kaneburo Maru. It is run by the Fuji Line and runs back and forth between Kasaoka and Kitagi Island, with occasional stops at Shiraishi. The schedule is:
Fare: 540 yen
Kasaoka to Shiraishi (direct): 9:25, 13:00, 15:25 (note: this ferry goes to Kitagi Island first before backtracking to Shiraishi)
Returns (direct) 8:39, 11:39, 14:32
What if you want to visit some other islands in the same island chain?
Glad you asked! We highly recommend taking a day-trip to Kitagi or Manabe Island during your stay on Shiraishi. They share the same ferry route with Shiraishi and thus are both easy day trips so you won't have to lug around heavy suitcases and backpacks.
From Shiraishi on the Sanyo Kisen Ferry:
Express ferry arrives in 14 minutes at Kitagi and 22 minutes at Manabe
7:47, 9:32, 12:52, 16:52
Regular Ferry arrives in 20 minutes at Kitagi and 30 minutes at Manabe
8:45, 11:55, 14:55, 18:25
You can hire a boat for groups or if you miss the ferry. It costs 8,000 yen (divided amongst the passengers) from Kasaoka port to Shiraishi.
Ferries To/From Shikoku
Note: There is only one ferry on Saturdays in each direction. Don't ask me why! Some islands have two ports, so make sure you get on and off at the proper port. Also, note that when going from Tadotsu to Shiraishi, you arrive at Sanagi Island at 14:50, change boats and leave Sanagi Island at 14:50. No worries, the next boat leaves from the opposite side of the pontoon, which takes about 10 seconds to cross over to. The boat will not leave without you.
Shiraishi Island to Tadotsu, Kagawa Prefecture, Shikoku
Lv. Shiraishi Island 11:35 – Ar. Manabe Island Iwatsubo 12:10
Lv. Manabe Island Iwatsubo 14:30 – Ar. Sanagi Island 14:50
Lv. Sanagi Island 15:25 – Ar. Tadotsu 16:15
2,500 yen
Tadotsu (Shikoku) to Shiraishi Island
Lv Tadotsu 14:00 – Ar. Sanagi Island Honura 14:50  
Lv. Sanagi Island Honura 14:50 – Ar. Manabe Island 15:10
Lv. Manabe Island 16:25 –Ar. Shiraishi Island 17:05
2,500 yen